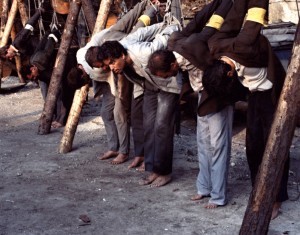 Produced by: Dick Atkins
Directed by: Rick King
Written by: Dick Atkins & Karl Bardosh
Co-Producer: Karl Bardosh
Executive Producers:
Richard Karo & George Zelma
Cast:
Ben Kline/Miklos Radnoti….. Chris Sarandon
Mira/Fanni Radnoti…………. Renee Soutendijk
Richard Kline……………….. Joseph Sommer
Hardy………………………… John Seitz
Ben Kline is a successful television actor desperate for a meaningful role to make him a movie star. When he sets out to play a hero who died in the Holocaust, he is forced to face the reality of those victimized by the war. In assuming the role of Miklos Radnoti, who left a notebook of harrowing poems from his ordeal, Ben finds the voice not of a hero, but rather one Jew who tried simply to survive against the rising tide, and now speaks to us from the grave. As he gets ever deeper into his role, he begins to merge with his character, blurring the boundaries of truth and illusion. And Ben's dilemma becomes how to act as Radnoti… as hero or victim… what legacy to leave in the minds of the audience. Because, for future generations, movies can become the truth.